Está claro que cuando alguien tiene talento, le sobran las excusas para ponerse a trabajar. ¿Que no tienes acuarelas y te mueres de ganas de hacer un retrato? Pues nada, un poco de café, pincel y a pintar se ha dicho.
La mayoría usamos el café para despertarnos, por eso que sin una buena taza por la mañana no somos personas. Como mucho, como mucho se me ocurriría usarlo para leer el futuro en los posos, aunque en realidad no tengo ni idea y tendría que inventármelo todo. Incluso hay quien dice que lo usa para darle brillo al pelo, pero hasta ahora no lo había visto yo como pinturas.
Es lo que hace Giulia Bernardelli, una artistaza italiana que descubrí en Instagram con el nombre de Bernulia. Donde uno podría ver un manchurrón de café ella lo transforma en una verdadera obra de arte.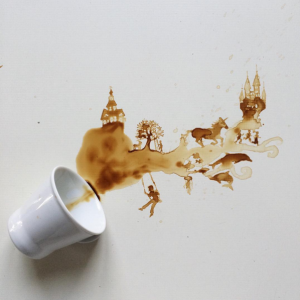 Y puestos a experimentar, ha experimentado también con vino y hasta con miel. Y como véis queda chulísimo también.
Feliz jueves.

Talented people obviously don't need any excuses to get to work. No watercolors handy but want to paint a portrait? No problem, just grab some coffee and a brush and off you go.
That is what Giulia Bernardelli does. He is an Italian artist I found on Instagram under the name of Bernulia. What some see as just a coffee stain, he transforms into a true work of art.

Une personne qui a un talent se trouve toujours des excuses pour se mettre au boulot. Tu nas pas daquarelles et tu meurs denvie de faire un portrait? Il te suffit dun peu de café, un pinceau et c`est parti !
Cest ce que fait Giulia Bernadelli, une artiste italienne que jai découvert sur Instagram sous le nom de Bernulia. Elle nous transforme une simple tache de café en une œuvre dart, cest tout simplement incroyable!